Administrator
Staff member
We have bad news, Christmas is in danger!

Coke Town has been invaded by the great Snowman and his minions, who have stolen the decorations for the Christmas Tree, if you help us to eradicate them you can get great prizes.


Every 6 hours, a notification will pop up with the time the Snowman and his minions are about to invade Coke Town.





To enter the map and fight the Snowman, you must talk to the NPC Head Researcher Wynn (located in the Free Market), choosing the White Christmas Xmass option, and wait until the timer ends to be transported to the Coke Town map.
The event consists of 30 rounds with a time of 15 minutes where all players must complete each round by killing all mobs.


Every 10 rounds the snowman will appear (3 phases), when killed he will throw gifts containing ornaments for the Christmas tree and many other gifts that serve for a new event closer to Christmas.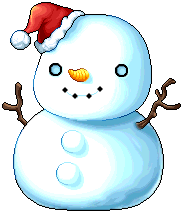 Also when killing a Snowman, for a short time a Pseudo Santa will appear floating over the map dropping surprise gifts.
​